The "Accueil Pèlerin" was founded by Pilgrims and is now still operated by Pilgrims. It has the ambition to create an atmosphere were pilgrims can share their experiences and life-stories and can recover for the long journey ahead to Santiago de Compostela or Rome. One of the unique elements is the joint cooking and eating. Generally vegetarian meals are prepared with fresh ingredients from our own biological gardens. The large garden with scenic views and the yoga and meditation room given ample space to relax and in case of bad weather there is a large living room with fireplace to warm-up after a day of traveling. Camping is possible when required. At the Le Coeur du Chemin Dutch, French, German and English is spoken.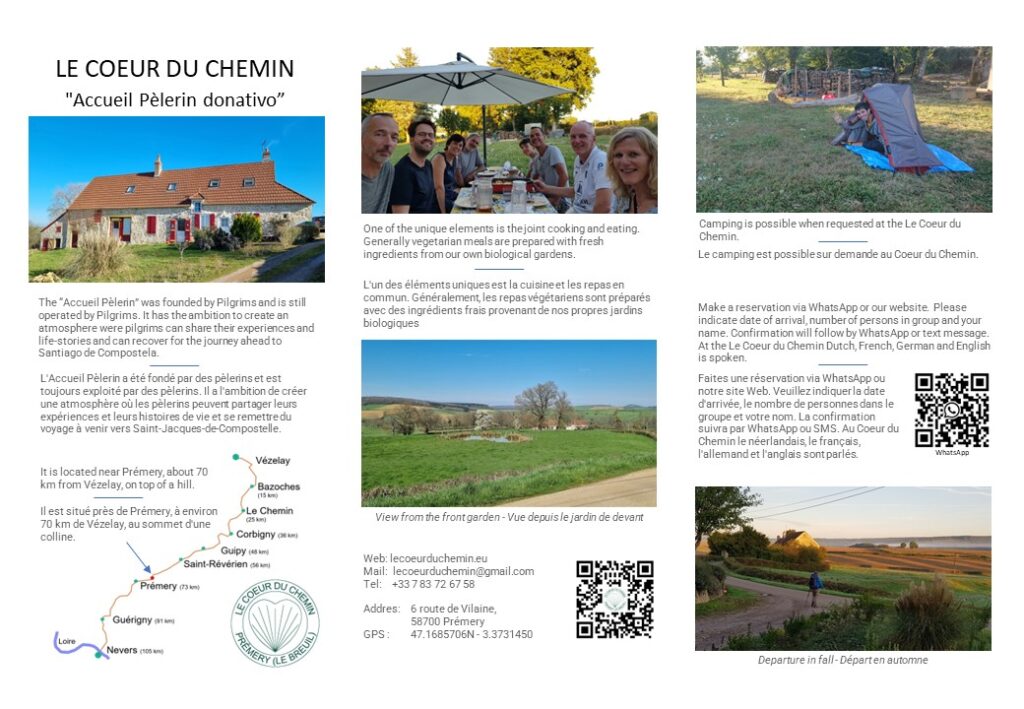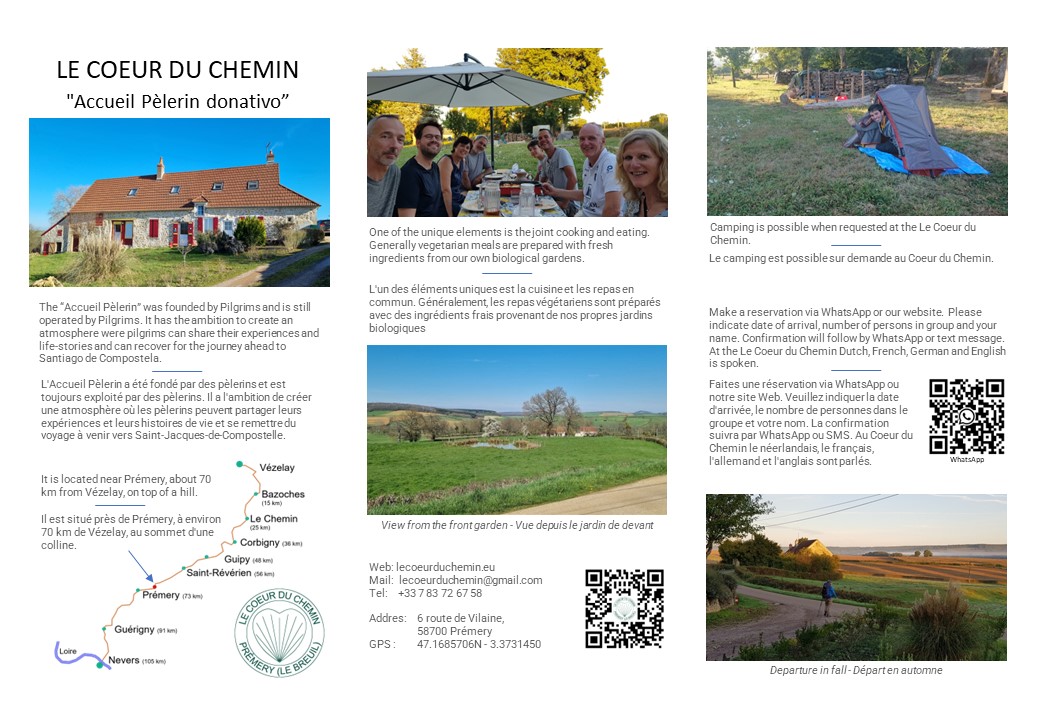 The new brochure form the 2023 season has been released. Download it via the link below.
The "Accueil Pèlerin" will reopen again at Easter on Friday 7th of April. It will remain open until the 22nd of September.
It is now possible to leave guest reviews on Google maps. Some of these reviews have also been copied to his website. If you enjoyed your stay please leave a review, if not, please let us know so we can act upon it.
HOW CAN I MAKE A RESERVATION
Making a reservation for the next day gives us ample time to prepare and the chance that we cannot accommodate you is very small.
Please contact us by Whatsapp. This is the fastest way to reach us. Specify: name(s), arrival date, group size and any specific requirements you might have as well as an email address.
If you have questions or want to make reservation more than 1 weeks ahead you can use e-mail. The e-mails will be answered with 2-3 days.
Due to limitations in capacity we cannot receive groups of pilgrims (more than 4 in a party) unless previously arranged.
WHERE IS THE "ACCEUIL PÈLERIN" LOCATED
Le Coeur du Chemin is a "Accueil Pèlerin" on the Voie de Vézelay close to Prémery. Located 65km from Vézelay and 30 km from Nevers it is located in a quiet hamlet (le Breuil) on a 4.000 m2 property overlooking de Rolling hills of the Nièvre region, Bourgogne.
The nearby town has a large Carrefour supermarket. When required we will bring you there to do some shopping.
WHAT ARE THE COST PER NIGHT
The "Accueil Pèlerin" is operated on the donativo principle. Donativo means that every pilgrims contributes, financially or otherwise, according to their possibilities.
This should make it possible for everybody to do a pilgrimage, independent of their background or what their situation is in life. Together we maintain and support affordable accommodation and food along the routes especially in the rural areas of France.
An indication for the cost per night per person to operate the donativo and prepare the meals is 30 euro. Any donations above will help us to further improve support along the chemin.